Caring for Your Hardwood Floors in the Spring and Summer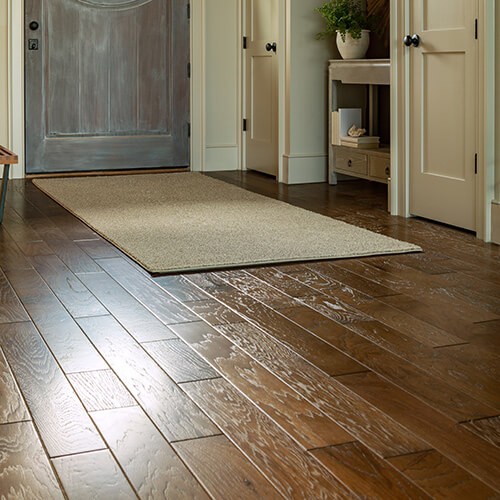 Many changes begin occurring in the spring and summer months. Trees start to bud and grow green leaves again and beautiful flowers reappear. Both the temperature and humidity start to rise, and rainfall typically increases. Many homeowners don't realize that flooring in their home can undergo some changes during the spring and summer months also. Wood is a natural product and absorbs moisture. When humidity levels rise in the home, wood flooring will absorb the extra moisture and can begin to swell and expand. Too much expansion in wood can cause a wood floor to cup or buckle.
Wood flooring performs best in a climate-controlled space with temperatures maintained from 60 degrees Fahrenheit to 80 degrees and relative humidity maintained from 30 to 50 percent year-round. The rain and higher humidity that comes with spring and summer can put wood outside of the comfort zone causing it to absorb excess moisture and if left unchecked for too long it could lead to damage such as cupping and buckling.
If you notice your wood flooring is beginning to develop a cupped appearance in the spring or summer, it could be due to a rise in humidity levels in the crawl space, basement or inside the room. This is caused by a moisture differential within individual pieces of flooring, usually created by excessive moisture vapor affecting the underside of the flooring. Subtle cupping may be caused by a rise in indoor humidity created by leaving windows open or turning off the air conditioner. This subtle cupping can be fixed by restoring the indoor climate back to wood's comfort zone. Subtle cupping may also be seasonal. It starts in summer and goes away in the fall and winter months.
Repair any leaks and add insulation to sweaty pipes and duct work found below the flooring. Restoration companies may be able to restore cupped floors caused by plumbing leaks by using special mats over the affected area, pulling out the moisture. High humidity in the crawl space can be fixed by encapsulating the space and adding a dehumidifier. Dehumidifiers can run in the basement as well to remedy the cupped floor above.
Keep in mind that these solutions are not quick fixes. Remedying flooring problems can take some time and consistent running of dehumidifiers for wood to lose moisture, especially with denser exotic species of wood such as jatoba. It could take several months for the flooring to return back to its original condition. If the moisture is removed and the flooring is still cupped, some products can be sanded and refinished.
Keeping humidity in check at all levels of your home can promote a healthier living environment. In addition, it keeps away microscopic organisms like mold, mildew and dust mites that thrive in high indoor humidity environments.
Call to speak with a Flowers Flooring sales representative to learn more about caring for your wood floors in the spring or summer. Or visit our website. Looking to replace your damaged hardwood? Call to schedule a free in-home estimate at (704) 445-7750.
Flowers Flooring is a sales and installation flooring provider located in Cornelius, NC. We service the entire Charlotte metro area including Davidson, Ballantyne, Rock Hill, Concord, Kannapolis and much more. Visit our showroom today to view carpet, vinyl plank, laminate, hardwood, and tile samples or check out our website!