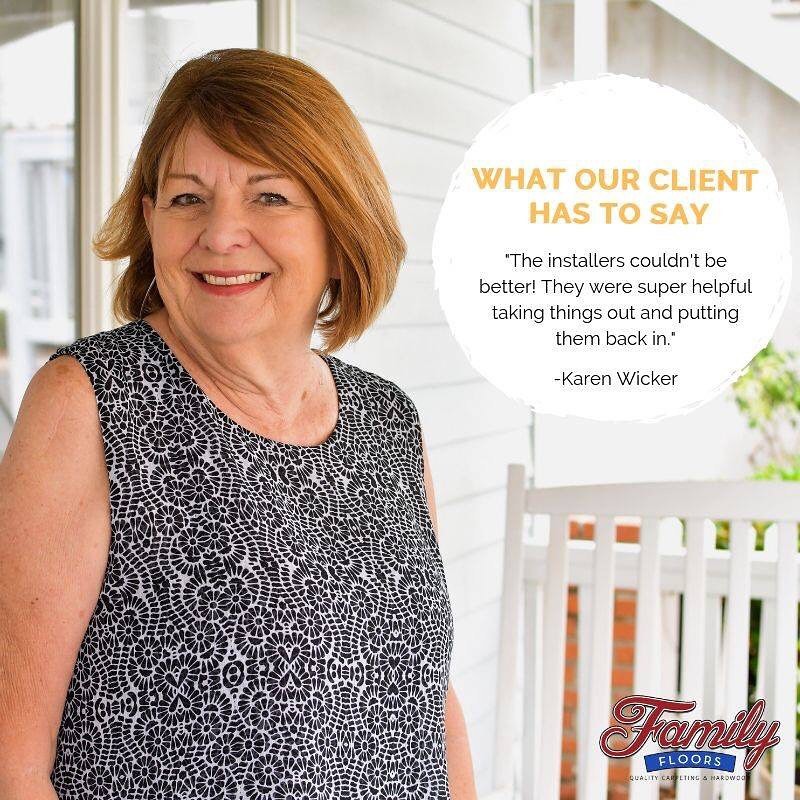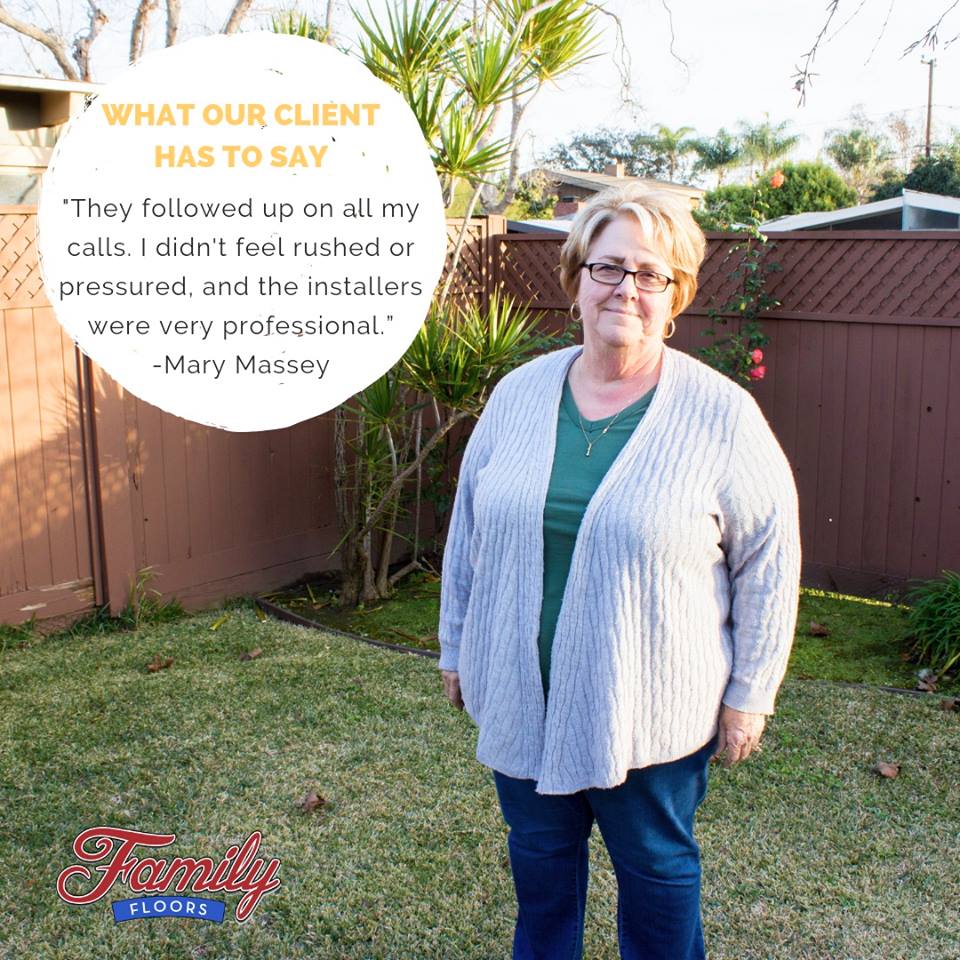 Long Beach, CA
Jennifer C.
Two things I love in life are kids and dogs. I felt all the comforts of home after we walked in and I heard a little voice coming from one corner and we were greeted by a lovely little pooch. I felt like they earned my business already.
They have an abundance of alluring carpet samples to choose from, after browsing for a while we decided on a very plush Tuftex but were undecided on the color. Melissa was very accommodating and let us take a sample book home. We had Jerry come out the same week and give us an estimate, and the installers came out a few days later to install. So all in all I would say the entire process took 1 week total.
They were very professional, and great to work with. My daughter loves her new carpet and so do I. We're in the slooooow process of getting my son's bedroom upgraded and I'm looking forward to going back to pick his carpet out. I'm sure it will be an equally satisfying experience :)
Long Beach, CA
Kathleen P.
Wonderful flooring company. We had laminate and carpeting installed in 5 rooms in our house. The installation company was professional, moved the furniture, put it back exactly in same place. were very efficient and cleaned up so nicely afterwards.
Our flooring was ordered and installed in less than a week. Melissa and Jerry were very helpful with our floor selection. They have quite a selection of flooring products to meet any budget. We were encouraged to bring floor samples home to make sure it went with our lighting, colors, etc. We did. The flooring quality is excellent and i have received many compliments.
I would definitely recommend!
Long Beach, CA
Barbara B
I cannot say enough about how pleased I am with the quality of the product, workmanship and customer service from Family Floors for the installation of engineering flooring in my living room and dining room. A third-generation locally owned company means you're dealing with people who live in this community and plan to stay here so they're totally invested in performing quality work.
From the first time I walked into the showroom where Joseph immediately honed in on my exacting requirements to this morning when Jaime and Pablo (the installation team) came back to affix the stair rail (they can't do it when the glue is still wet) and made the puzzling squeak on the steps go away, I have been nothing but happy with the experience. Jaime and Pablo showed up on time each day, were as quiet as they could be during installation (I have a downstairs neighbor with sensitive ears), put down a concrete slurry to fill the cracks in the concrete subflooring, were respectful of my furnishing (covering them and washing their hands before each re-positioning), cleaned up each night before they left (including the walkway outside and the garage space they used temporarily) and were exacting in laying the floor and installing the baseboard.
When the owner and his father delivered the flooring a few days before installation for the acclimation process, Jay, the current owner, noticed how much the subfloor reverberated so decided rather than "floating" the floor to have the installers glue the boards to the cork for increased sound insulation. For this attention to detail, I thank them; my neighbor thanks them.
When I called a couple of days later to mention to Jay that I wanted the team to see if they could get rid of the stair squeak when they came back to affix the stair rail, he promised me that they would do whatever was necessary to make me happy. And they did! For that matter, every time I called Jay (or his wife Melissa) before the installation to ask a question or to have them add a bullet point to the estimate, they always accommodated me without ever acting as if I were being silly. (I had had such an exasperating experience with the contractors who redid my kitchen that I've been hyper-vigilant ever since and another flooring company in town from whom I got a bid was not at all accommodating.) Jay's estimate was detailed and specific and I knew exactly what to expect during the process beforehand.
And the look...well, the pictures tell it all. (I hope I can figure out how to post them.) A high-quality US product installed masterfully at a reasonable and more-than-competitive price from a local, family-owned company. Yes, I highly recommend them.
Huntington Beach, CA
Dolores H.
LOVE my new area rug...great service, fair price and fast delivery...couldn't be more pleased.
Thank you
Long Beach
Kellie S.
Great experience! We had our old floors refinished and they turned out beautiful! They gave us a fair price and worked quickly. We highly recommend them!