Stylish Vinyl Flooring Looks for Any Room in Your Home
While genuine hardwood and tile can bring elegant and impressive visuals to your living room, bedroom, entryway, and more, luxury vinyl can offer an equally stunning option for rooms that have heavy foot traffic and family-friendly environments. Luxury vinyl is available in both planks (LVP), which mimics hardwood and tile (LVT), giving you a sleek stone or tile look.
Whether you're looking to remodel your favorite room for a brand-new look or you're getting your home ready to list on the market, gorgeous luxury vinyl flooring will help you complete your project on time with a beautiful style with less of a dent in your budget! Luxury vinyl is perfect for a busy household, thanks to its flexibility, scratch resistance, and luxury vinyl's cushiony feeling underfoot.
Also, luxury vinyl's inherent resistance to moisture, mildew, and mold means that you can install the look of wood flooring in rooms where moisture would present an issue for genuine hardwood! Here are some of our favorite suggestions for beautiful luxury vinyl wood looks for any room.
The Perfect Entryway Style
For many homeowners, the front entrance or foyer receives plenty of natural light to welcome guests, friends, and family. We love the idea of using wood-look luxury vinyl with a smooth or wire-brushed wood visual to allow the natural finishes to brighten the space with additional sunlight. Both smooth and wire-brushed finishes will convey a light and airy feel that highlights luxury vinyl's warmth and helps camouflage any dust and pet hair in between cleanings.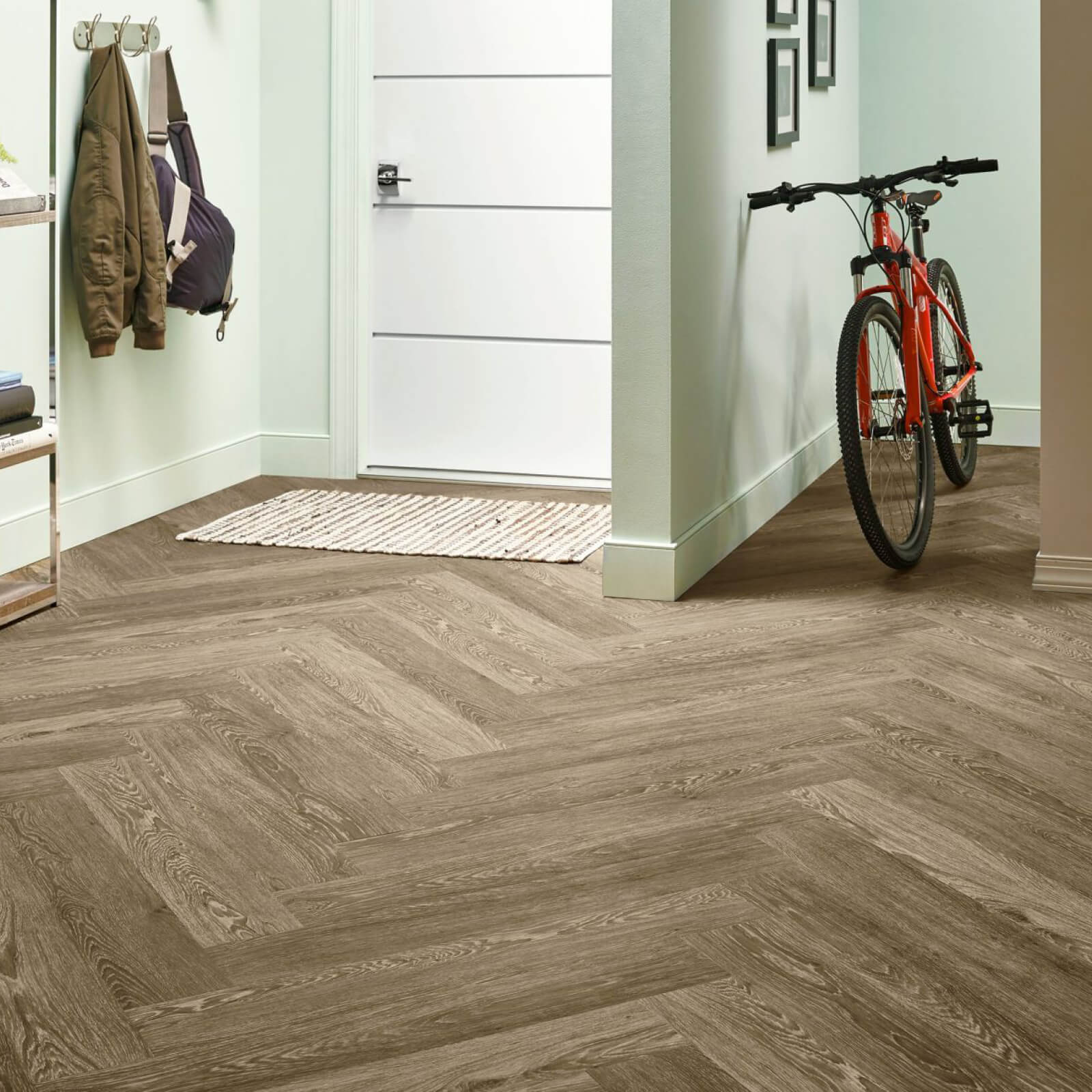 Love Your Living Room Again
In your living room, we recommend that you match your luxury vinyl flooring to your overall design scheme, whether it's modern, contemporary, coastal chic, farmhouse, or industrial. Throughout the rest of 2021 and into 2022, both darker wood tones and lighter-toned wood visuals will continue to shine! Grey and greige (a combination of grey and beige) are also huge trends right now that also offer a timeless quality. When it comes to the rooms where you will host visitors, luxury vinyl lets you explore popular wood and tile looks that enhance your home's style!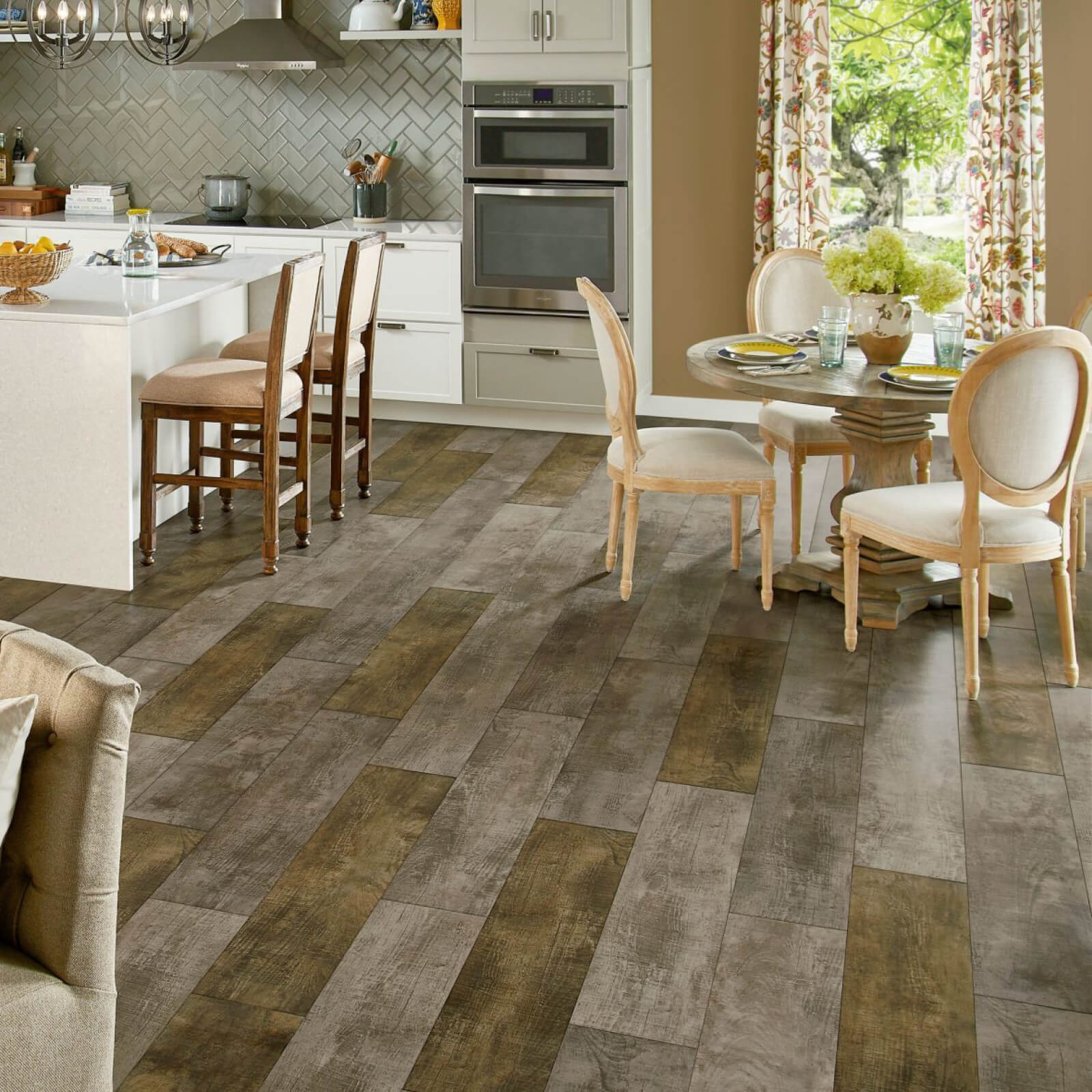 Stylish Kitchen & Bathrooms
Wood characteristics, including knots and graining, can be visually pleasing and pleasantly unexpected in the home's high-traffic, high moisture areas. Hand-scraped, distressed, and reclaimed wood looks will add eye-catching personality to kitchens and bathrooms. Distinctive, random markings not only create weather-beaten, striking looks, but they also hide scratches and scuffs that come with an active home. You can also use the waterproof construction of particular luxury vinyl flooring to add sophisticated wood appeal to your mudroom and basement as well.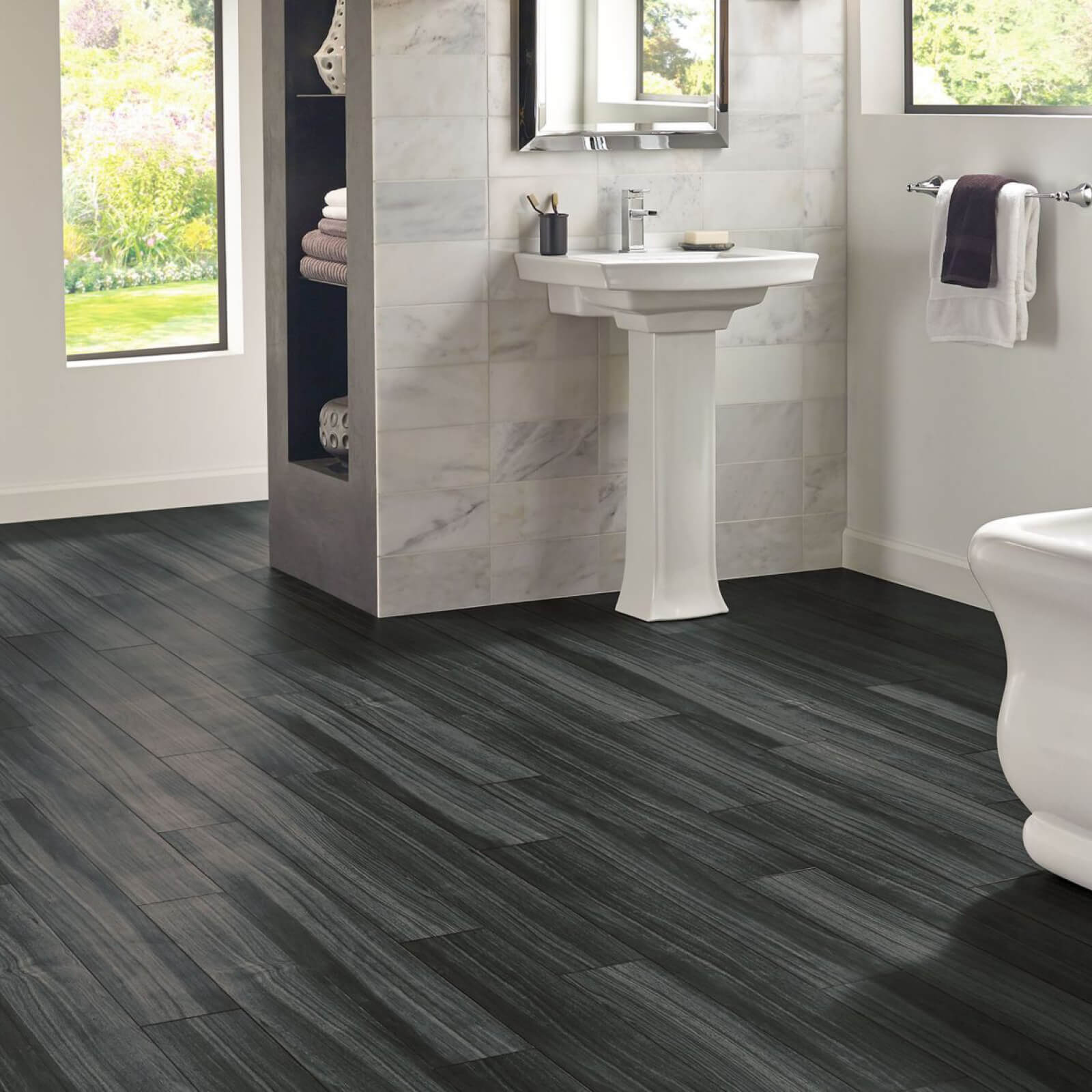 Creating an Oasis in Your Bedroom
Your bedroom is your own personal paradise, and it should be designed for the ultimate relaxation and comfort. Whether you opt for a stone or tile look, you'll be able to make it your own with luxury vinyl. You might even want to consider a patterned installation layout such as herringbone, geometric parquet, diagonal, or random sizes for a special touch that's all yours.
Luxury Vinyl's No-Hassle Maintenance and Durability
Aside from its clear style and good looks, luxury vinyl offers such easy care and maintenance requirements! Luxury vinyl is a particularly attractive flooring choice when you have kids and/or pets. This flooring is low maintenance and highly durable for a winning combination that also feels soft underfoot. Luxury vinyl is very strong and up to the challenge of a busy household, and also provides some cushioning for trips, falls, and playtime. It also holds up well to spills and messes—most accidents can simply be wiped away!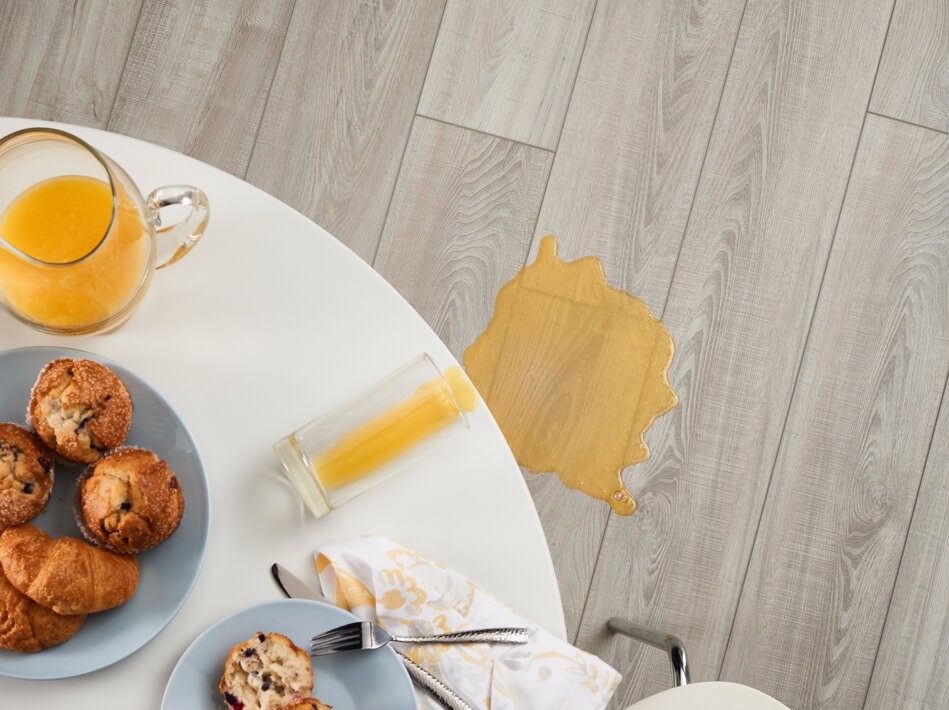 If you're ready consider a fall refresh with beautiful luxury vinyl flooring for practically any room in your home, visit the Family Floors showroom in Long Beach, CA, and let our flooring professionals help you discover the perfect vinyl floors!